Oh, freedom! Oh, freedom!
Oh, freedom for me.
And before I'll be a slave,
I'll be buried in my grave,
And go home to my Lord and be free.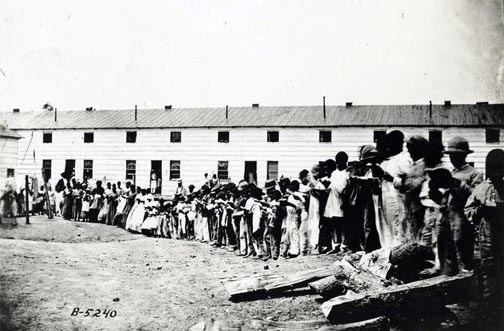 Young scholars at Prince Street Barracks, Alexandria, 1863-1864.
New York Public Library.
The Friends of Freedmen's Cemetery was founded in 1997 for the purposes of preserving, commemorating and researching a little known, Civil War-era, African American burying ground in Old Town Alexandria. The Friends' initial efforts concentrated on memorial ceremonies to honor and raise public awareness of Alexandria's freed people. In 2000, we secured a Virginia state highway marker for the site. Until 2007 the cemetery was concealed beneath and disturbed by a mid-twentieth-century gas station and office building, but these have been razed for the creation of a public commemorative park. In a beautiful and moving ceremony on May 12, 2007 the cemetery was rededicated (see http://www.washingtonpost.com/wp-dyn/content/article/2007/05/12/AR2007051201310.html).
Archaeologists recently completed an investigation to determine the location of extant burials. The work was undertaken to protect the graves and avoid future disturbance. Not only have scores of roughly east-west-oriented grave shafts been identified, but a 13,000-year-old projectile point was recently unearthed, suggesting the long use by American Indians of this location overlooking Great Hunting Creek. Although the graves themselves were not dug, the shafts revealed coffin shapes and some coffin hardware. There may have been a central east-west lane through the cemetery off Washington Street and north-south paths separating several rows of graves.
Design of the memorial park is proceeding, with the commencement of a design competition (see http://www3.alexandriava.gov/freedmens/).
For their efforts thus far toward the creation of the park, we would especially like to thank the Woodrow Wilson Bridge Project, the City of Alexandria and Alexandria Archaeology.
This website honors Alexandria's freed people. It is intended as a resource to present their stories and to connect them to their descendants and to Alexandria residents of today.
Board of Directors
Lillie Finklea, President
Louise Massoud
Char Bah
Shellyn McCaffrey
Tim Dennee
Webmaster
Tamara Mulhall
---
Friends of Freedmen's Cemetery
638 North Alfred Street
Alexandria, Virginia 22314
E-mail: freedmen@juno.com
December 21, 2015